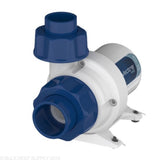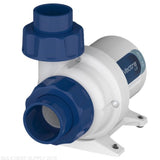 Use With or Without an Apex Controller!
The intelligent Neptune COR-20 Return Pump is easily the smartest pump available. Directly connect to any Apex controller through an Aquabus Port, but if you do not have a controller, don't worry, you don't need one! The COR-20 is capable of stand-alone operation, but also offers advanced control features that can be found by using the Apex Fusion Cloud Software (Apex required). Add a COR pump to your system today to see the difference.
IQ-Level Technology
Energy Efficient
Extremely Quiet
AquaBus Communication Connection
Temperature Monitoring
Up to 2000 GPH
Internal or External
Don't have an Apex? No Problem!
The COR-20 can be connected to an Apex, but it can also be used in a standalone method, where the controller lets you have simple control over the pump like, increasing and decreasing the speed as desired. Connecting the COR-20 to an Apex Controller can unlock much more potential!
Advanced Control
The COR pumps were built from the ground up with control in mind. Have power over everything including the CORs output percentage, real-time operational feedback, compared feed routines, pump status can all be monitored and controlled with Apex Fusion. Once the COR pump is plugged into an open Aquabus port, and after a couple button presses, you can set the pumps flow rate and feed mode settings. By enabling IQ-Level, you can set the min and max flow rates for your aquarium. 
Up to 2000GPH
The powerful COR-20 can push up to 2000 gallons per hour with an incredibly efficient head-loss curve. Each pump comes with multiple different output fittings that let you adapt the COR pumps output to match your reef tanks current plumbing size. It is suggested to use the largest 1.25" Union that is included, but it is totally fine to use the other 0.75" or 1.0" adapters if needed. 
IQ-Level Technology
Because not all aquariums are alike, Neptune Systems included IQ-Level technology with every COR pump. Customize the minimum and maximum speed settings for your tanks plumbing to the ideal flow rate, but also the minimum flow rate for in tank flow and feed modes as well. 
Whisper Quiet
Neptune's COR uses the latest in Vector Control, BLDC motor technology. Driving the COR pump in a way that is super energy efficient using less than 50W at full power, and staying vibration and noise free. 
Operational Feedback
Know what is going on with your pump at all times. COR pumps come loaded with features that let you monitor your aquariums "heart" giving you the chance to fix something before it fails. Saltwater aquariums are notorious for creating calcium and other mineral build up on pumps and there internal parts that can inhibit the flow but more importantly could cause damage to the pump. Neptune Fusion lets you monitor the pumps internal temperature along with its wattage draw and flow rate allowing you to set alarms and alerts if something goes out of their normal thresholds. If the temperature of the pump increases to unsafe levels, the COR will actually slow itself down until temperatures reach a safe level again, giving you time to react and maintain the pump.
Compatible with any Apex Controller (requires Aquabus port)
Specifications
Pump Dimensions: 3.875" W x 4.875" H x 6.250" D
Driver Dimensions:

 

3" W x 4" H x 1" D
Max Flow:

 

2000 GPH
Max Head:

 

20FT
Input Size:

 

1" Slip PVC
Output Size:

 

3/4" Slip PVC or 1 1/4" Slip to BSPP Union
Power Consumption:

 

Less than 90W @ 120VAC
What's Included?
1x COR-20 Pump Body
1x COR Driver Controller
1x 100W DC Power Supply
1x 1.25" PVC Union (slip to BSPP)
1x 1" Slip Fitting
1x 0.75" Slip Fitting
1x 3-foot Aquabus Cable
More from this collection