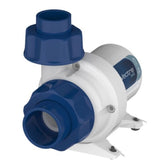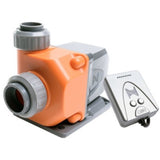 Flow: 2,000 gph (7,500 lph)
Wireless: Included
Max Head Pressure: 21.5 feet (6.5 m)
Footprint: 4.5 in.x 7.5in. (113.5 mm x 192.6mm)
 
Fittings: Input: 1.25 in. (31.75mm) Output: 1 in (25mm)
 
Standard PVC Input and output Quick Couplers
Quiet Drive Technology
96w Power Supply
Driver Included with mounting bracket
What's New?
Input and Output Couplers
New base
Tougher Motor Sleeve
Improved Thermal Management
Improved Ergonomics
New Couplers
Same Modular System
Robust Easy Turn Grips
Standard PVC sizes
Performance and Reliability
The Vectra S, M and Vectra L DC centrifugal pumps are built around performance and reliability. Coupling a class leading DC centrifugal pump with EcoTech's proprietary driver technology - delivers for return pump and closed loop applications in a big way.

Vectra - The World's Smartest Return Pump.
Flexibility and Control
In addition to all of the out of box functionality you would expect from EcoTech - the Vectra S, M and Vectra L will also connect to EcoSmartLive via the ReefLink.

Unlock even more features and enjoy simplified programming through EcoTech's free online control platform - EcoSmartLive.
Inline or Submersible
Vectra pumps feature a sealed motor and magnetic drive for internal and external operation as a return pump for Closed Loop flow. The Vectra's flexibility will fit your needs for just about any setup that you wish to achieve.
Vectra Driver
The Vectra driver features EcoTech's QuietDrive technology.
Choose between Return Pump or Closed Loop configuration
Access Vectra operational modes including Feed Mode
QD Technology minimizes DC motor noise
Fully adjustable flow
Communicates with other QD and EcoSmart compatible devices
The Vectra Advantage
Traditional AC pumps when used as a return pump for your sump are flow controlled through the use of a choke valve. This is method of control is inherently inefficient for two reasons. 1) The AC pump purchased must often be over-powered for your given setup to allow for flexibility. 2) By adding artificial impedance to your flow, electricity is wasted. The Vectra pump will always operate at the optimum efficiency because there is no need to use a flow restricting valve to achieve your desired flow rate.
When used with the ReefLink, your Vectra pump can send you performance and status alerts right to your mobile device or computer. Your return pump is the heart of your aquarium; the faster you hear about an unexpected issue the more successful you will be as an aquarist.
Quiet Operation
 Controllability
More from this collection