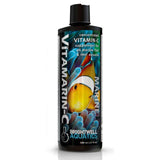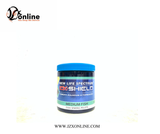 Benereef is not just a coral food, it is engineered for the entire reef. Our patent-pending pre and probiotic formula is unlike anything else on the market. It looks different and smells different because it is different.
Our nutrient rich, supplemental food features a unique formulation containing a proprietary probiotic blend such as but not limited to live Lactobacillus, Saccharomyces, and Bacillus species. Benereef will not overload your system with waste because the uptake percentage and absorption capacity of everything in your tank is increased. It feeds the nitrifying bacteria without clouding up your tank.
Benereef helps establish a healthy bioload and can help avoid "new tank" syndrome. The particle size is 3-3000 microns, so even the tiniest mouths can feed on it. The quality and percentage of proteins in Benereef play another major role in this process. The absorption capacity of the entire reef ecosystem is greatly enhanced. It's engineered so that everything in the tank consumes, feeds and utilizes it. Benereef will adapt to any tank system. It's the most forgiving reef food on the market. You'll notice immediate feeding response and amazing polyp extension. Your SPS, LPS, softies, fish and inverts will all flourish, color and grow like never before. You'll notice overall healthy, happy and plump corals after feedings and after about three weeks of continuous use, see an increase in coral growth and coloration.
Engineered food for the entire reef
Contains Probiotics that help fight diseases
Accelerates growth, color, vibrancy
Increased immune response
Perfect balance of Pre & probiotics and natural super foods
Easy to feed
Increases the micro flora in your tank
Bring your entire reef tank to life
Promotes amazing feeding response
Helps maintain healthy water levels
Particle size is 3-3000 Microns which means a wider range of food for all your Reef inhabitants.
Will not overload your nutrients
Does not cloud your 

water
Ingredients
Salmon Fish Meal, Freeze Dried Planktons, Brine Shrimp, Rotifers, Copepods, Brewers Yeast, Corn Starch, Calcium Powder, Astaxanthin, Spirulina, Garlic Powder, Marine Fish Oil, Soy Flour, Special blends of Natural Super Foods, Benepets Proprietary Probiotic blend such as but not limited to Lactobacillus, Saccharomyces and Bacillus species.
Guaranteed Analysis
Crude Protein

25.5% min

Crude Fat

4.7% min

Crude Fiber

44.0% max

Moisture

5.5% max

Crude Ash

5.0% max

Total Microrganisms

Lactobacillus, Saccharomyces,
and Bacillus species

1,000,000 CFU/g min
More from this collection