MXM - Mobius Wireless Module - Controls Ecotech & AI Devices - Neptune Systems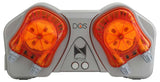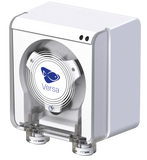 Bring the award-winning pumps and lights from EcoTech Marine and AquaIllumination wirelessly under the control of the easy to use, yet powerful, Neptune Systems' Apex and Apex Fusion interface.
Scheduled Feeding
With the Apex, you can easily start a feed cycle for your fish and corals using a light pulse for your Vortechs, feed intensity for your Vectra, turning off your skimmer, and activating your AFS, all with a push of a button or at a scheduled time.
Water Change or Service
By pressing a button your Vectra will turn off, your Radion lights will go a bit more white to be able to see more clearly in your aquarium, and Vortechs will turn off.
Photo Mode
To capture your success with your fish and corals, simply click a button on your Apex to decrease flow with your Vortech and Versa and enhance polyp extension, while also activating radiant color mode on your Radion lights to showcase the colors of your corals.
Protect Your Aquarium
Not only can you configure easy routines with your equipment, but you can also help protect your aquarium by configuring your devices to take special actions.
Temperature Monitoring
If your aquarium gets too warm, especially on hot days, you can lower the intensity of your lighting to help reduce the temperature.
ORP Monitoring
ORP can fall for several reasons, but sometimes it is due to not enough water turnover or flow.  It is a great idea to activate the patented Nutrient Transport Mode on your Vortechs when this happens.
Most Mobius controlled products are compatible with MXM and Fusion.
ECOTECH MARINE
Radion LED
G5, G6
VorTech MQD Series
MP10, MP40, MP60
Vectra Series 2
S2, M2, L2
NEPTUNE SYSTEMS
Apex A3
Apex, Apex Pro, Apex Jr.
AQUAILLUMINATION
Hydra Series
32HD, 64HD
Blade Series
Coral Grow, Coral Glow,
Freshwater, Refugium
Prime Series
Prime 16HD Series
Nero Series
Nero 3, Nero 5, Nero 7
Wirelessly controls Mobius compatible EcoTech Radions, Vectras, and Vortechs
Wirelessly controls Mobius compatible AquaIllumination Hydras, Primes, Blades, and Neros
Each MXM has the ability to connect up to twenty-five different Mobius compatible devices
Additional MXMs can be utilized to connect more compatible devices
The MXM has two Aquabus connections for flexibility in connecting the MXM to an Apex system
The MXM is powered by the Apex's Aquabus; no separate power supply is needed.
Comes with 3′ AquaBus cable
Fully upgradeable— MXM firmware can be updated for feature enhancement
LED Status indicator and wireless status indicator
Compatible with all A2 and A3 Apex Systems
More from this collection